Construction of Balkan`s largest mosque in Albania
2015-05-14 06:08:44 |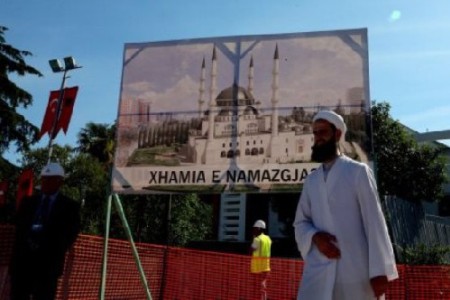 Construction site of Albania`s Largest Preze Castle mosque in Tirana.
The Turkish Directorate of Religious Affairs will finance the building of the Balkan's largest mosque in the Albanian capital Tirana, authorities said.
New Mosque complex will be 10,000 square meters (108,000 square foot) near the Albanian parliament and to accommodate 4,500 worshippers.
Currently only 60 people are able to worship at the same time in the Et'hem Bey Mosque, despite the fact that 70 percent of Tirana's population of over 300,000 is Muslim.
Turkish President Recep Tayyip Erdogan, Albanian President Bujar Nishani, Albanian Prime Minister Edi Rama, Turkey's top religious leader Mehmet Gormez and Albanian Muslim community leader Skender Brucaj are attended inauguration the construction work of the mosque Wednesday.
Turkish ambassador to Albania, Hidayet Bayraktar, said the mosque is a gift from the Turkish people to their Albanian brothers. Bayraktar praised Albania's model as a society where all religions live in peace. He also praised Albania's progress toward becoming a European Union country.
"We want to finish the work quickly so that we pay tribute to our mosque, the Albanian brothers, "Erdogan said at the inauguration of Preze Castle mosque. "Today also we regard all of our brothers in Albania and Balkans as our inseparable part."
"The Museum of coexistence which will also be built near a mosque in Tirana will be a symbol of religious tolerance," he added.
The mosque will be under Islamic center where there will be more conferences and exhibitions, libraries and museums in the same area in the center of Tirana, the Catholic cathedral and Orthodox church.
Albania is a Muslim-majority country in Balkan region with a population of around three million people. It has been a NATO member and is a European Union candidate nation.
. Tags: #