COAS, Afghan envoy discuss border issues
2017-08-03 01:08:59 | nomi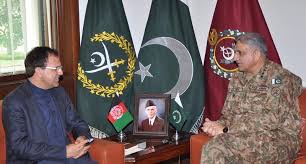 COAS,Afghan envoy discuss border issues
ISLAMABAD: Army Chief Gen Qamar Bajwa met Afghanistan's ambassador Dr Omar Zakhilwal on Wednesday for continuing discussions on normalisation of bilateral relations.
"Today, met with Pakis­tan's COAS Gen Bajwa for follow up discussion on range of issues, contributing to bilateral tension and how to go about resolving (them)," the Afghan envoy tweeted after the meeting at the General Headquarters.
The Inter-Services Public Relations said the discussions centred around security situation and border management.
The meeting was a follow-up to a meeting of operations chiefs of Pakistani and Afghan militaries on May 11 in Rawalpindi during which the two commanders had agreed to make efforts for building cooperative relations.
Moreover, US acting Assistant Secretary for South and Central Asia and acting Special Represen­tative for Afghanistan and Pakistan Alice Wells is arriving in Islamabad on Thursday. Afghanistan will feature high on her agenda.
Dr Zakhilwal's tweet showed that the meeting was continuation of previously undisclosed discussions for addressing the sources of tension.
Relations between Pakis­tan and Afghanistan have been acrimonious because of differences over dealing with terrorism and border disputes.
Gen Bajwa, had while chairing a security meeting in Lahore after last week's Ferozepur Road blast, repeated the allegations that hostile intelligence agencies — a reference to RAW-NDS nexus — were using Afghanistan territory with impunity. But at the same time he offered help to Afghanistan to eliminate terrorist safe havens in the border areas.
Pakistan accuses Afgha­wnistan of allowing Pakistani terrorist groups — the Tehreek-i-Taliban Pakistan, Jamaat-ul-Ahrar and others — that had fled counterterrorism operations here to establish sanctuaries on Afghan soil.
Meanwhile, Kabul alleges that Afghan Taliban and its ally Haqqani network continue to maintain sanctuaries in Pakistani territory from where they are sustaining insurgency in Afghanistan.
Mutual mistrust between Islamabad and Kabul is also impeding progress towards the settlement of the Afghan dispute. There have been mediation efforts by the US and China to resolve the differences between Afghanistan and Pakistan.
The two have reached several agreements for managing their relationship crisis, but have been failing to get out of the vicious cycle of distrust.
A Congressional delegation that visited Pakistan and Afghanistan last month had mediated an agreement between Pakistan and Afghanistan for conducting "coordinated, complementary" security operations against terrorist groups on their respective sides of the shared border.
. Tags: #
Afghanistan
#
Pakistan
#