Chinese court jails Muslim for beard and his wife for wearing veil
2015-03-30 08:24:04 | Al Muslim News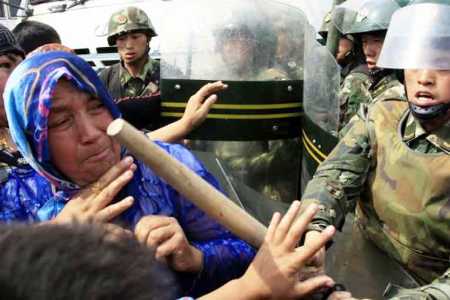 "If a Chinese man grows a beard, it is a personal fashion he is allowed to choose freely. If a Uyghur grows a beard, he is a religious extremist."
A Chinese court in Xinjiang's city of Kashgar sentenced a 38-year-old Uyghr Muslim to 6 years in jail for growing a beard, while his wife was given 2 years for veiling herself.
Dilxat Raxit, a spokesman for the exile World Uyghur Congress, said the case was "typical of the political persecution" faced by Uyghurs Muslims, Turkic-speaking people of Xinjiang region, Free Malaysia Today reported.
"This is a case that would not happen in any other country in the world," Raxit said in a statement. "It is unacceptable and absurd. It exposes China's hostile attitude and crisis of governance."
He added: "If a Chinese person grows a beard, it is a personal fashion he is allowed to choose freely. If a Uygur grows a beard, he is a religious extremist.
"China's goal is to use judicial means to force Uygur Muslims to accept Chinese people's traditions and give up their own way of life."
The man "had started growing his beard in 2010″ and his wife "wore a veil hiding her face and a burqa (Niqab, face veiling)". Both practices are discouraged by Chinese authorities.
A campaign dubbed "Project Beauty" also encourages Muslim women to leave their heads bare and abandon wearing the veil, a woman dress requirement in Islam.
The couple were found guilty of "picking quarrels and provoking trouble", a vague accusation regularly used in the Chinese judicial system.
For more than a year the authorities in Xinjiang have been campaigning against men growing beards — a practice officials associate with extremist ideas.
Last year authorities in Xinjiang's Shaya county offered cash to informants to report on Muslim neighbors having bread.
Rights groups believe Beijing's repression of Uighur culture and religion has fanned tensions in Xinjiang, a resource-rich region that abuts central Asia.
Ethnic violence increased last year and at least 200 people were killed in a series of bombings and deadly clashes with Chinese forces, labeled by Beijing on "religious extremists". China accused of carrying out repressive policies that restrain their religious, commercial and cultural activities.
News report and several other articles on the case had been deleted from mainland news sites by Chinese authorities.
Uyghurs are a Turkic ethnic group living in Eastern and Central Asia. Today, Uyghurs live primarily in the Xinjiang Uyghur Autonomous Region in the China,
Uyghur nationalists claim that 5% of Xinjiang's population in 1949 was Han Chinese, and that the other 95% was Muslim Turkic peoples of Uyghurs, Kazakhs Uzbeks, Kyrgyz and Tatars. In 1953, Uyghurs were counted as 73% of Xinjiang's total population. Today Han Chinese migrants from other parts of China reached up 41% and Uyghur 44% of total population in Xinjiang..
Tags: #