Canadian Prime Minster first time hosts iftar
2015-06-26 03:50:25 | Al Muslim News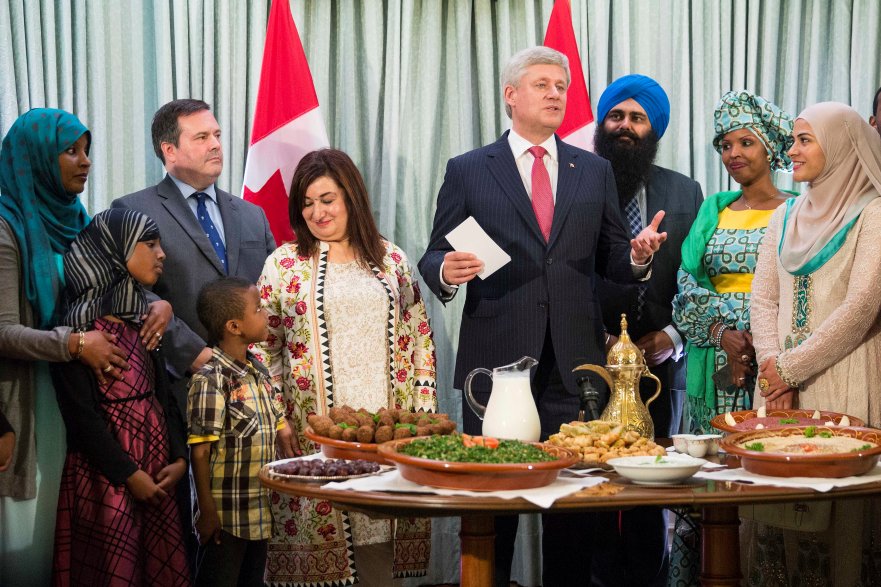 Prime Minister Stephen Harper may have made Canadian history, inviting Muslim leaders to break the Ramadan fast at official residence.
Following the examples of other state heads, the Prime Minister of Canada, Stephen Harper invited Muslim leaders to break the Ramadan fast with him at his official residence.
Prime Minister made Canadian history, since it was the first time for Canadian prime minister to host an Iftar at his official residence. The relations between the Muslim community and the Conservative government have not always been easy. The government is often criticized for focusing too much on the radical elements within Islam, instead of reaching out to Muslims.
Canadian Muslim community Leaders have expressed hope that the gesture would translate into a change in the government rhetoric about the religious community.
"This event certainly came as a surprise to many given the government's record of action that has alienated, marginalized, many Canadian Muslim communities," said Ihsaan Gardee, executive director of the National Council of Canadian Muslims, iPolitics reported on Wednesday, June 24.
"Given that it is election season, we hope that this event is not merely a vote-soliciting tactic but a real sign of change of tone and attitude."
The iftar, held last Monday, is the first time Harper welcomed 40 members of the Muslim community into 24 Sussex to break their Ramadan fasts alongside members of his government.
The government's relationship with Canadian Muslims has grown increasingly fraught over the past year over attempts to ban niqab or new security measures targeting the religious community.
The government policies received huge criticism for blaming Muslims for terrorism, with many critics seeing it as using anti-radicalization rhetoric to sow fear and prejudice against Muslims.
Muslims are the fastest growing religious community in Canada, according to the country's statistical agency, Statistics Canada.
Canada's Muslim population increased by 82 percent over the past decade – from about 579,000 in 2001 to more than 1 million in 2011.
Muslims represent 3.2 percent of Canada's total population.
. Tags: #
Canada
#