British Muslim Scholars launch 'anti-extremist' Magazine
2015-03-28 03:41:09 | Al Muslim News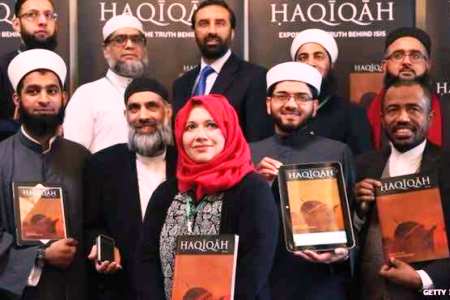 British Muslim leaders launched a digital magazine to educate young people about the reality of extremist movements and counter 'extremist interpretations' of Islam found on the Internet.
More than 120 Islamic scholars gathered at London summit from across the world. The summit was organized to fight the threat of radicalization among Muslims youth.
The magazine is called "Haqiqah," meaning "the truth" or "the reality". It will be available to download from www.imamsonline.com
The magazine also explains that people who go to live in the self-proclaimed ISIS are belonging to those who Prophet Mohamed called "Khawarij," meaning extremists or dissenters.
The organisers say it brought together every group within Islam, cultural groups, and included Africans, Arabs, South Asian and converts to Islam from many nations.
Shaukat Warraich, the founder and chief editor of Imams Online, a site for British Muslim readers, said the magazine, "will counter the extremist narrative used by groups such as Daesh (ISIS)."
The world is changing at a speed we could never have imagined before. 15-20 years ago, we did not carry smart phones and social networking. Social media is helping shape the world's events and culture. From personal to public life, politics to religion, social media is constantly posing challenges, Imam Qari Muhammad Asim, Senior Editor, said on magazine's website.
One of the biggest challenges faced by young people is the abuse of the Internet. From bulling to sexual grooming, radicalisation to spreading hatred – all of these vile acts are committed online and have the potential of destroying young people's lives. A teenager regularly accesses dozens of websites containing pornographic, radicalising, hate-spreading material and all of that has incredible impact on a young person, he added.
"But now that we live in a digital world, some young people are not coming to the mosque so we must reach out to them - and this is the Muslims' contribution to combat radicalisation on the net," he also said.
One of the focuses of the magazine will be putting verses of the holy Quran used by extremists to lure young British Muslims to fight abroad into their proper context.
"We know that by taking efforts to support and mobilize the huge online Muslim population we will eventually drown out the violent voices," Chief Editor Warraich said.
An American think-tank, The Brookings Institution, recently published a report titled "The ISIS Twitter Census" claiming that there were between 42,000 and 70,000 Pro-ISIS accounts on social media site..
Tags: #