Bosnia to pay tribute to victims of Prijedor Massacre
2015-06-03 08:08:09 | Al Muslim News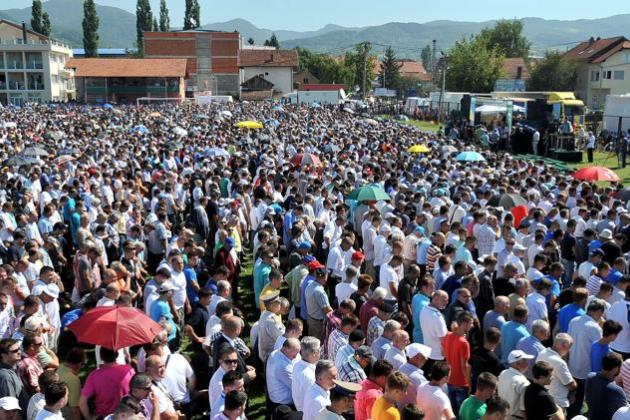 Funeral for prijedor massacre victims found in tomasica mass grave
Bosnia and Herzegovina on Sunday honoured the memory of thousands of innocent civilians who were massacred by Serbs in Prijedor in the 90's for 'White Ribbons Day'.
Thousands of Bosnian residents came together in various cities including Prijedor and other large cities like Sarajevo with white ribbons wrapped around their arms to mark the 23rd anniversary of the massacre.
Activists from a group known as 'Anti Dayton Group' handed out 3,176 white ribbons to commemorators, symbolic of the number of deaths that have occurred in the massacre.
"This day is to remind us all of the innocent lives that were lost in Prijedor and all other cities in Bosnia," activist Zvjezdana Hatak said.
Founder of the group, Nihad Alickovic, said that out of the 3,176 people, who were killed in Prijedor, 102 were children, 258 were women, and 30,000 others suffered in concentration camps in towns around Prijedor.
"It is important to mark this day to save the truth from the oblivion," Alickovic said.
The massacre was also remembered in the capital city of Republica Srpska, where tens of activists wearing white armbands stood on a white sheet in silence in Krajina Square.
"By this initiative, we want to mark the day when the ethno-fascism was formalized and created the Republika Srpska in Prijedor, the day when the authorities of RS ordered all non-Serbs to hoist the white sheets on their houses and to wear white ribbons. We all know what happened after that. The genocide happened in Prijedor, concentration camps, mass extermination, persecution," activist Srdan Susnica said.
The massacre took place between the months of May and August in the year of 1992.
In May 31, 1992, the Serb administration issued a white ribbon policy that would denigrate non-serbian people to wear a white ribbon around their arm in public.
Those convicted of the Prijedor massacre and killings in concentration camps totaled 38 offenders to date with four people waiting for a final judgment.
The Anti Dayton group aims to restore a pre-war civil constitution and remove the Dayton Accords in the Republic of Bosnia and Herzegovina.
The Dayton Accord is the peace agreement signed on 14 December 1995 that put an end to the Bosnian war.
. Tags: #
Genocide-of-Muslims
#
Balkan
#