Bomb Blast in Turkish capital , More than 30 killed, 125 injured
2016-03-14 05:10:14 | m usman@Almuslim News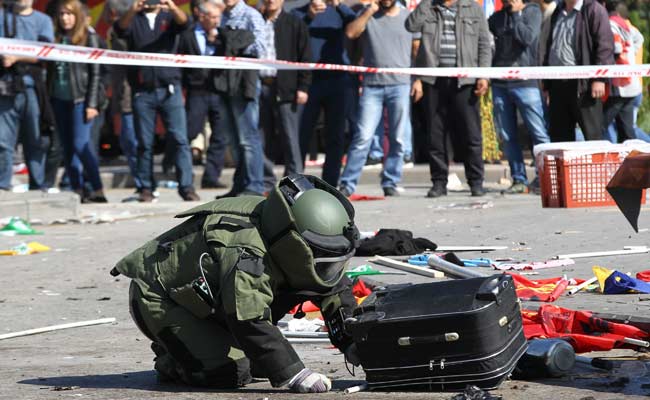 turkey Ankara bomb blasts spot
Turkish Health Minister Mehmet Muezzinoglu confirmed the death from Sunday night's car bomb attack in Ankara's central Kizilay neighborhood is 34 dead with 125 injured. Muezzinoglu said: "Thirty-four died; 30 at the blast scene and four at the hospitals."
He also said that at least one or two of the dead bodies recovered from the blast site are believed to be those of the assailants who carried out the attack using a bomb-laden vehicle.
"There are a total of 125 patients under treatment at hospitals; 19 of them remain in serious conditions. We have seven patients in surgery. Most other patients may be released from the hospital this [Sunday] night, when their treatment gets completed," the minister said.
Turkish Interior Minister Efkan Ala, who also attended the security meeting, said: "The terror attack was carried out by a moving bomb-laden vehicle, which targeted civilian citizens waiting at the bus stop."
Ankara Governor's Office said in a statement earlier that a car exploded near a bus stop in Ankara's central Kizilay neighborhood at 6.45 p.m. local time (1645 GMT) Sunday evening.
After the blast, several fire-fighting trucks and ambulances were seen rushing towards the scene. Pedestrians and vehicles were barred from Kizilay Square, while a police helicopter hovered above. Some vehicles were damaged in the incident.
Security forces also evacuated the area in case of a second blast in the same place.
Ankara Governor Mehmet Kiliclar also surveyed the blast area.
Meanwhile, Prime Minister Davutoglu postponed his official visit to Jordan scheduled Tuesday following the Ankara blast.
The Turkish premier in a statement said the government has concrete information about the terrorist organization behind the Ankara attack, which will be revealed to the public once the investigation ends.
This Coward attack targets Turkey as a whole, as well as our peace, unity and democracy. The Republic of Turkey will pursue its fight against terror for the unity and peace of the nation with determination and the treacherous powers that target our country will be severely punished," he added.
Earlier, Turkish President Recep Tayyip Erdogan spoke with Interior Minister Efkan Ala over the phone, who briefed him about the incident.
. Tags: #
Anti-Islam
#
Anti-Muslim
#
Terrorism
#
Turkey
#