Belgium: School Teacher Hangs 5-Year-Old Muslim Child
2015-09-18 00:13:50 | Al Muslim News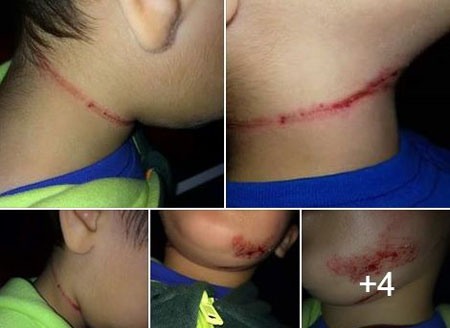 Belgian teacher has been accused of hanging the child by his neck as punishment for not standing in line
A teacher of a primary school in Antwerp, Belgium, has been accused of hanging a Muslim child as a punishment for refusing to stand in line.
Mother of the student hanged by neck posted her son's images on Facebook, showing the marks of rope on students' neck.
She said that she will do anything to get the teacher fired from her job. She said that her son was beaten and then hung on rope just because he did not want to stand in line.
The photos infuriated the local women who protested outside the school against the barbarous attitude of the teacher.
However, the spokeswoman for Municipal Education Antwerp, Joke Cortens, said that the teacher was not present at the playground when the incident took place according to their investigations.
She said that the marks on the child's neck were seen after the playing time and the parents were informed.
At the same time, the councilor of education in Antwerp, Claude Marinower, says that the situation needs to be calmed down. He said that the tensions and escalation of the matter will not help anyone. He said that the best way is to thoroughly investigate the matter before jumping to conclusions.
Both the parents involved, concerned teacher, other parents and school staff are supervised and supported," Marinower said.
According the 2011 estimate found 1,000,000 inhabitants of Muslim background in the Belgium. Muslims constitute 22.0% of the population of Belgian capital Brussels. The majority of Belgian Muslims live in the major cities, such as Antwerp, Brussels and Charleroi. These Muslims mainly have their origins in Morocco, Turkey, Pakistan, Bangladesh and some African countries.
. Tags: #