Before Wright brothers and Da Vinci, the first aviator was Abbas Ibn Firnas
2015-04-22 08:03:49 | Al Muslim News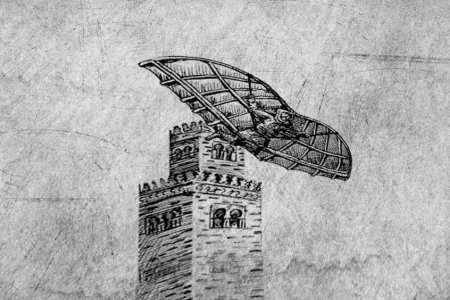 A thousand years before the Wright brothers' inventing airplane, astronomer Abbas ibn Firnas made several attempts to make a structure of flying machine.
In 852 he jumped from the minaret of the Grand Mosque in Cordoba in Spain using a loose cloak stiffened with wooden struts. The Islamic Museum of Australia has honoured his work a real life scale replica of his flying machine.
Firnas' attempt at flight was unsuccessful, but the garment slowed his fall enough that he only sustained minor injuries.[4]
Abbas ibn Firnas was an an inventor, physician, engineer, musician, and poet. He was born in 810 A.D in Izn-Rand Onda, Al-Andalus (today's Ronda, Spain), lived in the Umayyad Emirate of Córdoba, and is reputed to have attempted flight.
The crater Ibn Firnas on the Moon is named in his honor, as well as the Ibn Firnas Airport in Baghdad, Iraq.
The Islamic Museum of Australia has commissioned another community project called the Abbas ibn Firnas, the father of modern glider aviation. Based on the historical recollections of the legendary 9th century Muslim Spanish inventor and scholar three Australian Muslim aerospace engineers banded togeheter to recreate a scale model of the famous flying contraption.
The Islamic Museum of Australia will present Abbas ibn Firnas Project tilted as: The Father of Modern Glider Aviation, in last week of April.
. Tags: #