Australian women launch online site to fight Islamophobia
2015-06-01 05:30:20 | Al Muslim News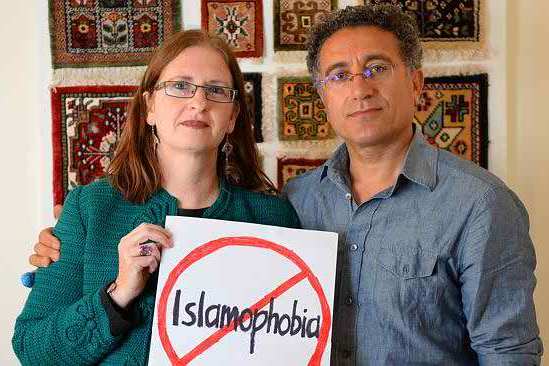 Susie Latham with her husband Aref
Disturbed by the surge of Islamophobic attacks across Australia, Susie Latham along with her friend and human rights academic Linda Briskman launched a website that aims to fight bigotry, according to IINA.
Joining efforts to combat growing Islamophobia in the country, the two women launched an online initiative to show support for victims of anti-Muslim attacks in the southeastern state.
The website, voicesagainstbigotry.org, urges Australians to add their name to a list of people denouncing discrimination against Muslims.
Besides fighting rising anti-Muslim sentiments, the initiative was also prompted by rumors about the launch of an anti-Muslim political party by the end of this year.
Constant stories of racial abuse directed towards Muslims were too much for Ms Latham, who saw the individual pain and suffering caused by acts of bigotry.
"I don't think people realize how it impacts on individuals," Latham told Herald Sun on Sunday. "If you don't agree with what's being said there's nowhere to say 'hey, if you're saying stuff about Muslims you're not saying it on my behalf."
"It's just something that was the final straw for me, I just thought we don't really need that sort of thing in Australia, we should try to at least provide an alternative voice," Latham added.
From their part, the Muslim community welcomed the online initiative as a step in the right direction.
Islamic Association of Australia President Muhammad Wahid said the Muslim community often felt the sting of racial abuse, and welcomed the support from those who signed voicesagainstbigotry.org
"We do receive a lot of abusive emails, but you can count on your fingers the people who email or ring to say 'we are with you, and we sympathize with you,'" Wahid said.
"The website is a good initiative," he said. "It's very welcomed in the community."
It is noteworthy that the website serves as a platform where Muslim victims of discrimination can share their abuse experiences.
Last week, an Australian man was assaulted and punched in the face after standing up for three Muslim women who were the targets of a racial and bigoted attack on a train in Melbourne.
Recent statistics revealed that a growing number of Australian Muslim parents were enrolling their children in Islamic schools, seeing it as the best way to avoid bullying and harassment they face in state schools.
. Tags: #
Islamophobia
#
Bigotry
#
Anti-extremist
#
Racism
#
Discrimination
#