Australian newly formed Anti-Islam party takes first steps
2015-10-27 13:45:05 | Al Muslim News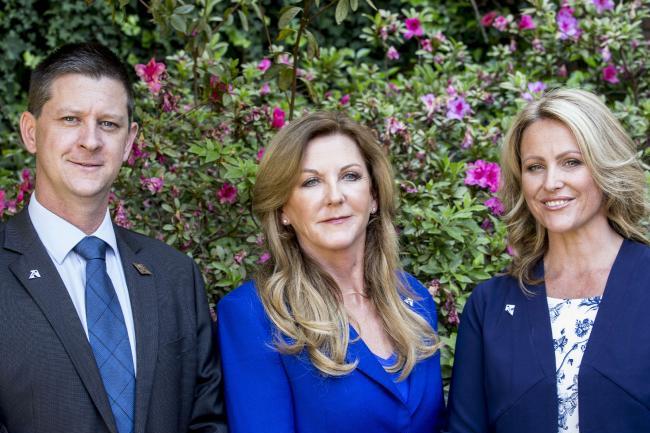 Anti Islam Australian Liberty Alliance candidates Bernard Gaynor, party co-founder Debbie Robinson and anti-halal campaigner Kirralie Smith
Anti Islam party Australian Liberty Alliance want to ban burqas, freeze Muslim immigration and end Australia's "failed experiment" with multiculturalism.
The proudly anti-Islam Australian Liberty Alliance (ALA) the nation's newest political party — also claims that a growing number of Australians want exactly those same things, the West Australian reported.
"I do believe that people are waking up to the dangers and the problems that will come from increased (Muslim) immigration," ALA co-founder and political candidate Debbie Robinson said.
"Islam is a problem and if we don't take steps to put laws in place to protect our culture and our society, then we are going to lose our freedom."
But many more will also find those same views confronting and offensive — none more so than members of Australia's Muslim community who have described the emergence of the ALA as "alarming".
It is the so-called threat of "Islamisation" that the ALA is hoping will help propel its candidates into Federal Parliament at next year's election.
Party members stood shoulder-to-shoulder in Perth this week alongside controversial Dutch anti-Islam MP Geert Wilders as it unveiled its first crop of Senate hopefuls.
Mrs Robinson will stand in WA, while anti-halal campaigner Kirralie Smith will represent NSW and former Katter's Australia Party candidate Bernard Gaynor will run in Queensland.
Mrs Robinson is a former nurse from well-heeled City Beach who claims to be neither racist nor religious.
Islamic Council president Rateb Jneid said Mrs Robinson's comments were highly offensive to Australian Muslims who loved their country and wished only to live in peace.
"The Muslim community is very concerned that a virulently Islamophobic political party was launched in Western Australia — a single issue political party based on promoting fear and hate of Islam," he said.
"This is very reminiscent of 1930s nazi Germany. The acts of Muslim extremists do not represent the great religion of Islam in any way or form."
. Tags: #
Australia
#