Australian Muslim female`s Football Team Makes History
2015-05-13 10:43:04 |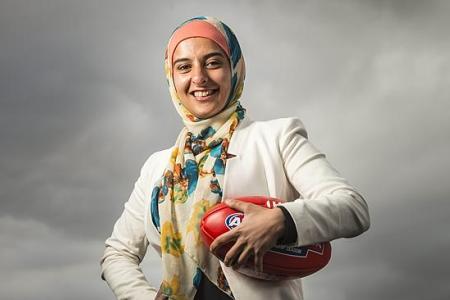 Auburn Giants founder and player Amna Karra-Hassan.
Australia's first all-Muslim women football team is preparing itself to make history when it plays a historic curtain-raiser at Melbourne Cricket Ground (MCG) in coming month.
"To have an opportunity to play at the MCG, even if it is a curtain raiser, is something most people would dream of," Amna Karra-Hassan, Auburn Giants founder and player, told Herald Sun on Tuesday, May 12.
"But for a Sydney girl who didn't grow up with a love of the game but has a love of the game now, I'm blown away."
The Auburn Giants was started five years ago in the soccer and rugby league heartland of western Sydney, OnIslam reported.
The Muslim girl team was offered an opportunity to take to the field before Collingwood's clash with Greater Western Sydney on June 14.
It will be the first ever a Muslim women's team has played before Australia Football League (AFL) crowd at the MCG.
Years after launching her team, Karra-Hassan says the game is helping society.
"There is no doubt in my mind that for every negative story about Muslim people there needs to be 10 more that are positive to counter that," she said.
"And to be part of the positive narrative, for media to be interested and for people to want to hear something other than all the negative stuff inspires hope."
The AFL is the highest-level professional competition in the sport of Australian rules football.
According to market research, the AFL is the second-most-watched sporting event in Australia, after cricket.
Last year, the league agreed to introduce multi-faith prayer rooms at playgrounds to respect Australia's cultural diversity.
Islam sees hijab as an obligatory code of dress, not a religious symbol displaying one's affiliations.
A 2007 poll taken by the Issues Deliberation Australia (IDA) think-tank found that Australians basically see Islam as a threat to the Australian way of life.
A recent governmental report revealed that Muslims are facing deep-seated Islamophobia and race-based treatment like never before.
. Tags: #
Hijab
#
Australia
#