Australian Anti-Islam group throws pig head in video to promote mosque protest
2015-08-23 10:10:28 | Al Muslim News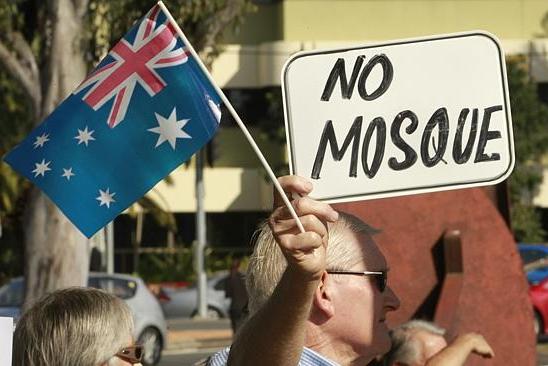 The far-right group has involved in an ugly rally against Muslims in Melbourne last month.
A proposed mosque in the town of Bendigo, Australia has been the subject of a fair amount of hysteria for a while now. Since the $3 million prayer, sports and community centre was approved last June, opposition from anti-Islam group has grown into a broader anti-Islam movement,
A recent video posted to social media, shows Anti Muslim and racist group, United Patriots Front (UPF), protesting the development of the Bendigo mosque using severed pig's heads, The Age reported. Five severed pig heads were said to be representing "five Muslim citizens from Bendigo."
The video has become the best living caricature of the anti-Islam movement up to date.
The increasingly common use of pig's heads by anti-Islamic groups is a symbolic reference to the fact that Muslims don't eat pork. But the implicit violence in the imagery of a severed animal head plays a role as well — in November last year a pig's head was impaled on a spike outside a mosque in Perth.
At a hearing in front of the Victorian Civil and Administrative Tribunal late last year, local opponents of the mosque — who, coincidentally, have received thousands of dollars in funding from Queensland far-right anti-Islam group Restore Australia — claimed their main objections were based on lighting, privacy, the building's visual impact, traffic congestion and noise.
But the seemingly unrelenting campaign against the development has had distinctly anti-Islamic and racial undertones. Anti-Islam groups have rallied around the Bendigo mosque controversy, spreading misinformation describing Islam as a "totalitarian ideology" and harassing both Muslim and non-Muslim locals supporting the development.
The far-right group involved in an ugly rally in Melbourne last month will take its anti-Islam message to Bendigo next weekend to protest the building of the town's first mosque.
The United Patriots Front has told supporters that Bendigo would "become a caliphate, unless we stand in the way", and will hold a protest on Saturday against the planned mosque.
Counter-protest group No Room for Racism say it will be in Bendigo on the same day, with about 1200 people pledging on Facebook to confront the UFP and "stop the racists and neo-Nazis from spreading hate speech".
. Tags: #
Anti-Islam
#
Islamophobia
#
Australia
#