Australia struggles to convince refugees to relocate in Cambodia
2015-04-21 05:11:50 | Al Muslim News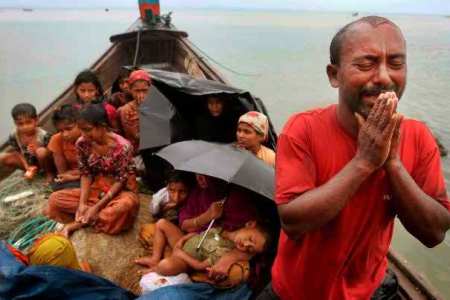 Refugee Action Coalition spokesperson says expected transfer of refugees - Most of them Muslim - to Cambodia delayed as so few want to go. Australia's much criticized policy of transferring its rejected refugees to Cambodia none appeared to have made the journey.
Refugee Action Coalition spokesperson Ian Rintoul told that "the [expected] transfer has been delayed because so few refugees are interested in taking up the government's package", Anadolu Agency reported.
The package, outlined in a letter circulated last week by the Australian Immigration Department to both refugees and asylum seekers, included a cash incentive, which Rintoul believes is up to $10,000, accommodation, insurance and a wide range of services such as language tuition.
It talked of the advantages of life in Cambodia: "Cambodia is a safe country, where police maintain law and order. It does not have problems with stray dogs," it reads.
It stated that the first flight to Cambodia could leave Monday.
A spokesperson for Immigration Minister Peter Dutton issued a statement to Anadolu Agency saying: "A Cambodian Government delegation is currently travelling to Nauru." Nauru is the home of a detention center for Immigrants - many of them Muslim - denied entry to Australia.
Amnesty International report in November 2012 mentioned the center as "a human rights catastrophe... a toxic mix of uncertainty, unlawful detention and inhumane conditions."
All candidates must be bona fide refugees fleeing a well-founded fear of persecution in their home countries, it reported officials as saying.
Rintoul told that despite reports to the contrary, he could confirm only one asylum seeker had agreed to be in the first group to leave the Pacific island nation.
Rintoul said his concern is that all the above are asylum seekers who have not yet had their refugee claims accepted. The bilateral agreement between Australia and Cambodia, signed last September, stipulates that only genuine refugees who volunteer to go will qualify for relocation to Cambodia.
"Technically the deal only applies to refugees and I don't know of any refugee who has been approached," he added.
Spokesperson for the United Nations High Commissioner for Refugees (UNHCR) had said that the agency will play no role in resettling refugees who have agreed to give up their hopes of life in Australia to resettle in Cambodia, one of the world's poorest nations.
"We are not playing a role in this relocation and our staffing structure in Phnom Penh remains unchanged," the spokesperson said.
In Cambodia during The Khmer Rouge regime who took power in 1975. Led by Pol Pot, The new government modeled itself on Maoist China, immediately evacuated the cities, and sent the entire population on forced marches to rural work projects.
Estimates as to how many people were killed by the Khmer Rouge regime range from approximately two to three million. Hundreds of thousands fled across the border into neighboring countries. The regime disproportionately targeted ethnic minority groups especially Cham Muslims.
The Muslims suffered serious purges with around 400,000, half of their population killed by Cambodian forces. More than 132 mosques were destroyed
during the Khmer Rouge era, many others were desecrated, and Muslims were not allowed to worship. Muslim imams and scholars were executed.
The Khmer Rouge regime forced Muslims to eat pork meat, which they regard as forbidden (ḥarām). Many of those who refused were killed.
Currently Muslims make 2% of Cambodia's 15 million populations..
Tags: #