Australia doctors protest to demand release of refugee children from detention
2015-10-12 07:19:35 | Al Muslim News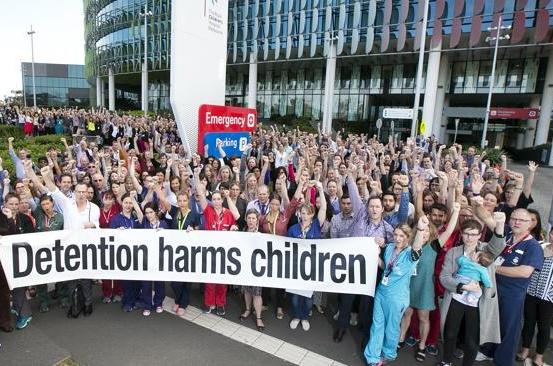 Doctors have taken a bold stand against the Government and demand an end to the continuing detention of almost 200 children.
A group of Australian doctors Monday ramped up pressure on the government over its hardline policy on asylum-seekers, saying children they treat from immigration centres should not be returned to detention where conditions could harm them.
Thousands of Australians rallied over the weekend urging Pacific island detention camps be shut, and medical professionals at the Royal Children's Hospital in Melbourne are reportedly refusing to discharge asylum-seeker patients if they are to be locked up again, FMT reported.
The stance was backed by the Australian Medical Association (AMA) and the Royal Australasian College of Physicians.
AMA president Brain Owler said children behind bars suffered psychologically and doctors faced an ethical dilemma.
"Doctors are put in a very difficult position," he told national radio.
"If we had a child that comes into our hospital that we feared if sending them back to an environment which we felt was going to be harmful, where they were at risk of abuse, we would be negligent if we sent them back to that environment.
"And that is what the doctors at the Royal Children's Hospital are saying. We cannot send children back to an environment where they're going to be harmed."
RACP president Nick Talley added in a statement that "time and again, the Australian public has seen inquiries and heard excuses for the wrongs committed against children inside these detention centres".
"The health and well-being of children should never be open to compromise. No child should be held in detention," he said.
All asylum-seekers coming by boat to Australia are now sent to camps in Papua New Guinea and Nauru and ultimately denied resettlement in Australia even if they are found to be genuine refugees.
Although the tough policy, which also includes turning back boats, has stopped frequent drownings, human rights organisations have slammed the prolonged detention, particularly of children, as a breach of Australia's legal obligations.
Owler estimated some 200 children were being held, about half in Australia and the rest offshore. Government figures recently said 86 children were on Nauru.
Distressed about the welfare of dozens of patients brought to the Royal Children's Hospital in Melbourne while in immigration detention, staff on Sunday penned an emotive opinion piece for the Herald Sun newspaper.
"As health staff at a leading children's hospital, our duty is to support child health. We cannot accept or condone harm to children. Detention causes harm and it must end," it said.
"We call for moral leadership on this issue to find a solution, quickly — to use alternatives to detention and to stop the harm."
The numbers of children in immigration detention peaked at 1,992 in mid-2013 under the former Labor administration, but they have been significantly reduced since the conservative government was elected in September that year.
Since ousting Tony Abbott for the leadership of the Liberal Party and the government last month, Turnbull has admitted to concerns about the Pacific island camps. But he has given no indication of immediate policy changes.
. Tags: #
Australia
#