Australia and Iran to share intelligence in fight against ISIL
2015-04-20 05:43:01 | Al Muslim News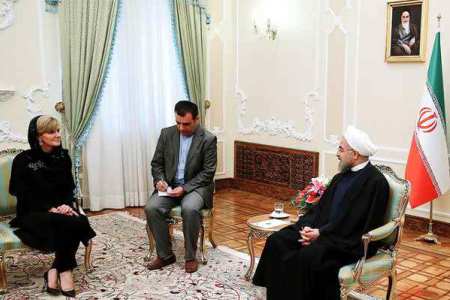 Australia and Iran have agreed to share intelligence to track foreign fighters associated with the Islamic State of Iraq and the Levant (ISIL), Foreign Affairs Minister Julie Bishop announced the co-operation after a meeting with Iran's President Hassan Rouhani.
Australian minister has been in Iran for the first high-level talks between the countries in more than a decade.
Her statement came after a meeting with Iranian Foreign Minister Mohammad Javad Zarif, President Hassan Rouhani and Ali Akbar Velayati, foreign affairs adviser to Iran's supreme leader Ayatollah Ali Khamenei.
Bishop revealed the details of the cooperation after a meeting with Iran's president, describing it as an extraordinary deal that will have beneficial outcomes in the fight against global terrorism.
"During my discussions with the national leadership here it was agreed that we could share intelligence, particularly on the foreign terrorist fighters from Australia who are taking part in this conflict in Iraq," she said.
It was an informal arrangement whereby we would share intelligence that would give us information on the Australians who are taking part and I believe that Iran has information that we would seek and they were very agreeable to share that information with us," Bishop said.
Ms Bishop said she believed the deal on nuclear programme, which has been criticised by Israel, was balanced.
Under the framework agreement, Iran agreed to significantly decrease the number of installed uranium enrichment centrifuges it has to 6,104 from 19,000 and will only operate 5,060 under a future comprehensive nuclear agreement.
In return, it will receive relief from United States and European Union nuclear sanctions as it demonstrates compliance with a future comprehensive nuclear agreement, which Iran and six world powers aim to conclude by June 30.
Ms Bishop said President Rouhani's optimism was fuelled by his view that there has been goodwill in the negotiations with world powers and an appropriate policy of give and take.
Around 100 Australians are believed to travel Iraq and Syria to fight with the group, raising concerns about the threat they pose if they return home..
Tags: #