Australia: A man punched in the face for defending Muslim women from abuse
2015-05-26 08:39:57 | Al Muslim News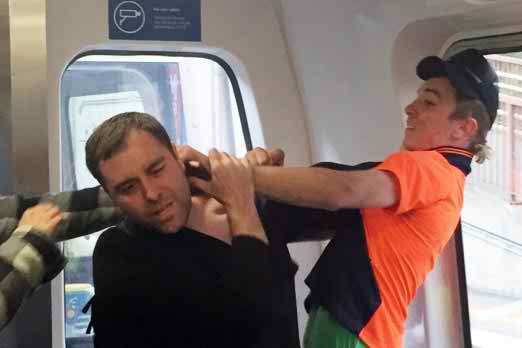 An image taken by a passenger on the train, Jason Cias attacked by racist after he stepped in to stop abusing to Muslim women
A man in Australia has allegedly been punched in the face after standing up for three Muslim women, who were subject to a vile racial and bigoted attack on a Melbourne train.
Jason Cias, 36, was travelling home from work on the Craigieburn-bound train when he noticed two tradesmen racially abusing three Muslim women - one older and two younger who appeared to be in their twenties - wearing hijab.
Police are investigating the incident that began with two men in fluorescent orange tops, abusing a group of Muslim women for wearing hijab and speaking Arabic.
According to media reports, one of the men referred to the religious clothing after the women sat down next to them, saying: "You shouldn't be wearing that shit in Australia."
The older woman appeared to try calming the heated exchange, speaking in Arabic, to which one of the group responded, 'You shouldn't be speaking that shit in Australia'," Mr Cias said.
As the women got off the train, one of the men shouted an apparent sexual threat, which prompted Mr. Cias to intervene.
"I said to the guy, 'Mate, they're women'. The implication there was you don't threaten people, particularly women."
Mr Cias said one of the unidentified men then punched him in the face, after which there was a short scuffle caught on camera by onlookers. Pictures and video evidence were passed to police.
Speaking later, Mr Cias said the incident had left him with a "pretty good black eye" but insisted he'd do the same again. "If anything I wish I had intervened earlier," he said.
"Whether it's Islamic women or whoever, it's just not right they can abuse people like that," Mr Cias added.
"No one should be doing that to anyone regardless of race or gender or religious creed."

. Tags: #