Aussie Muslim family invites Police chief to Ramadan feast
2015-07-02 13:12:39 | Al-Muslim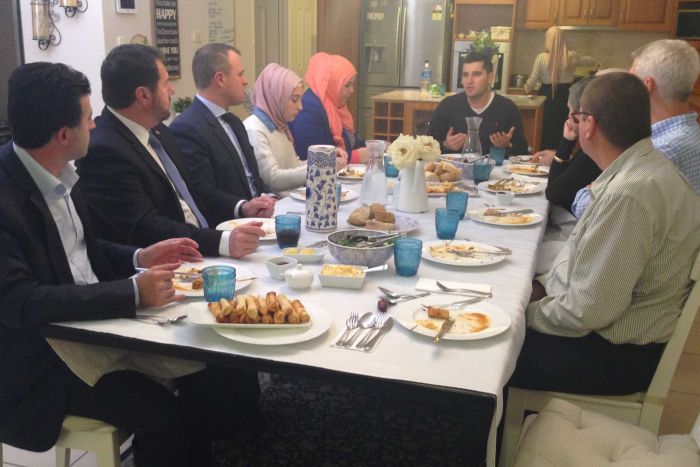 Logan family invites Queensland Police chief to Iftar dinner in bid to break down cultural barriers
The daily family ritual of sitting down to dinner together has taken on a new significance for about half a million Australian Muslims observing the holy month of Ramadan.
They must abstain from all food and drink during daylight hours to purify the soul, refocus on God, and practice self-sacrifice.
The fast is broken every evening at sunset with special meals enjoyed together with family and friends.
"It is such a special thing for us, the Ramadan dinner," said mother-of-five, Canan Coskun, from Logan, south of Brisbane, ABC News reported.
Her family hosts the special dinners, or Iftars, where they invite non-Muslim guests to share in the evening meal at their home.
This year, the Coskuns counted Queensland's Acting Assistant Police Commissioner Brent Carter among their guests.
"To share that special moment with people from other faith backgrounds, it means a lot to us." said Mrs Coskun.
Mrs Coskun said she believed having a meal together could also help to break down barriers.
"I've had many people over at my house who have never seen a Muslim person before, or maybe they've never seen a woman in a hijab," she said.
"They just think we're refraining from food and water, but it's more than that," said 18-year-old Seyma Coskun.
"It's about developing more spiritually, it's about doing more good, it's about making better habits."
Her eight year-old brother, Huzeyfe, is not obliged to fast until he reaches puberty, but he is trying to join his parents and older sisters.
Ramadan is the ninth month of the Islamic lunar calendar and this year runs from June 18 until July 17.
Like his wife, Murat Coskun hoped breaking bread with other community members might help foster tolerance and appreciation of cultural diversity.
Acting Assistant Police Commissioner Carter described it as an educational experience.
"You know I've learned so much, meeting this family for the first time, sitting down and sharing a meal with them," he said.
"They're just like any other Australian family: hard working, very committed and family-orientated."
The dinners are coordinated through the Queensland Intercultural Society to foster a better understanding of the Islamic faith.
. Tags: #
Australia
#