Attacks on Brussels airport, metro station kill around 28 : BRUSSELS
2016-03-22 08:49:35 |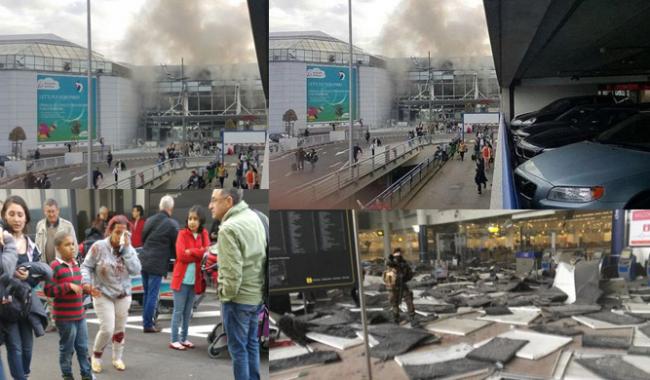 Attacks on Brussels airport, metro station
BRUSSELS: A suicide bomber blew himself up at Brussels airport on Tuesday killing at least 13 people and a further blast tore through a rush-hour metro train in the capital shortly afterwards, claiming 15 lives, according to Belgian media.
Public transport operator STIB said 15 people have been killed and 55 injured in a blast on a Brussels metro in Maelbeek.
A witness said he heard shouts in shortly before two blasts struck the packed airport departure lounge. Pictures on social media showed smoke rising from the terminal building through shattered windows and passengers fleeing down a slipway, some still hauling their bags.
The blasts occurred four days after the arrest in Brussels of a suspected participant in November militant attacks in Paris that killed 130 people.
Belgian police had been on alert for any reprisal action.
Social media showed pictures of smoke rising from the departure hall where windows had been shattered by the blasts.
Passengers were seen running away down a slipway.
The deadly explosions were carried out by a suicide bomber, Belgium´s federal prosecutor said, broadcasters VTM and RTBF reported, without giving more details.
Sky News television´s Alex Rossi, at the scene, said he heard two "very, very loud explosions".
"I could feel the building move. There was also dust and smoke as well.
I went towards where the explosion came from and there were people coming out looking very dazed and shocked."
"The thinking here is that it is some kind of terrorist attack - that hasn´t been verified by any of the authorities here at the airport."
Video showed devastation inside the departure hall with items scattered across the floor.
Belgian media said rail traffic to the airport was suspended.
Brussels airport said it had cancelled all flights and the complex had been evacuated.
Salah Abdeslam, the prime surviving suspect for November´s Paris attacks on a stadium, cafes and a concert hall, was captured by Belgian police after a shootout on Friday.
Belgium´s Interior Minister, Jan Jambon, said on Monday the country was on high alert for a possible revenge attack following the capture of 26-year-old Abdeslam.
"We know that stopping one cell can ...push others into action. We are aware of it in this case," he told public radio.
French investigator Francois Molins told a news conference in Paris on Saturday that Abdeslam, a French citizen born and raised in Brussels, admitted to investigators he had wanted to blow himself up along with others at the Stade de France on the night of the attack claimed by Daesh; but he later backed out.
. Tags: #