Anti-Islam PEGIDA hold rallies in UK and Australia
2015-04-06 06:56:26 | Al Muslim News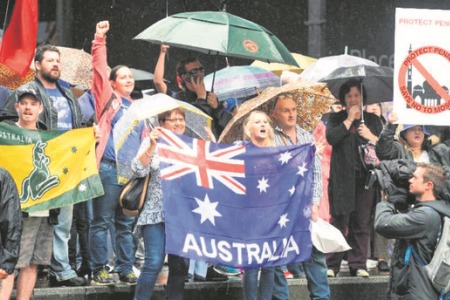 The United Kingdom has seen a growing trend of far-right political parties and groups. Anti-Muslim organization PEGIDA held its first session in London in front of the prime minister's residence on Saturday with little participation to the anti-Islam rally. Saturday's march was held in order to promote anti-Muslim rhetoric and sentiments in the country. However, the anti-PEGIDA organizations staged rallies to protest the far-right organization. "We see PEGIDA UK as one manifestation of the unease in society caused by state divide and rule tactics, the stirring up racial and religious hatred in the media and the decline in living standards," anti-racism organizations called London Anti-Fascists (AFN), and Unite Against Fascism (UAF) stated, SABAH news reported.
In Australia, anti-Islam rallies took place on Saturday as well, promoting hatred towards Muslim community residing in the country. Marchers draped in the Australia flag carried signs screaming anti-Islam messages such as "Sharia Law equals Pedophilia," and "God Save Us" in Sydney, while in Perth a line of mounted police and other officers, some with dogs, kept opposing sides apart. Counter-protesters argue the movement is anti-Muslim and Islamophobic, while Clare Fester, who organized a counter-rally in Sydney, told The Anadolu Agency that Reclaim is just "racist and divisive."
Misrepresentation of Islam by militant groups like Islamic State and al-Sham (ISIS), al-Qaida, Boko Haram and the Taliban trigger more hatred and anti-Muslim sentiments among Western countries. As these militant groups have carried out violent attacks and killed many people mostly Muslims, people in Europe are more inclined to act violently against Muslims and immigrants while supporting far-right political parties.
PEGIDA has spread across Europe and gained worldwide recognition, as a organization acting against Islamization of the West. The far-right populist organization was founded in Dresden, Germany in few months ago. Right after its establishment, it has grown much larger with support growing from disenchanted Europeans who oppose the "Islamization" of their country. The protests spread to small countries like Denmark and large ones like the U.K. and Spain as the presence of a significant number of Muslims has likely fuelled a resurgence in these countries.
Apart from Germany, anti-Islam demonstrations modeled on PEGIDA protests were held lately in Canada. However, the Quebec branch of PEGIDA failed to gain ground in the country as the group cancelled demonstrations due to low levels of participation amid sharp criticism. Canadian authorities condemned such anti-Islam organization while called to outlaw such rallies that threatens the country's tolerant and pluralist stance.
. Tags: #