Afghan Parliament approved a Law on limiting wedding Costs
2015-04-07 09:16:06 | Al Muslim News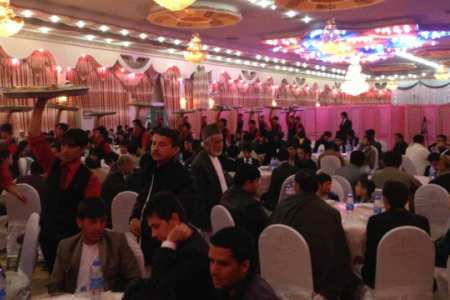 Afghanistan parliament passed a new law capping the cost of weddings at $3,500 to make marriage easier, fixing limits for dowry and curbing extravagant wedding ceremonies in the devout Muslim country.
"These excessive wedding ceremonies are causing huge social problems and becoming a burden for families," Senator Nisar Harris told, one of the legislation's supporters. "We have passed this law to prevent families going broke and to preserve social cohesion."
The law limits the number of wedding guests to 500 and caps the cost per head at 400 afghanis (about $7), NBC news reported
In Afghanistan, tradition of "walwar", a sort of dowry sometimes a heavy amount of money paid to the bride's family for the marriage, has been a major reason for delayed marriages in many rural parts of the country.
Lavish weddings, music and dancing were banned under the Taliban. After the U.S.-led invasion toppled the hardline regime in 2001, Afghans who could afford it have celebrated their freedom by holding large, loud and expensive weddings.
But the tradition has become a life burden for many young people in this desperately poor and war-torn country where domestic product (GDP) per capita stands at less than $700 in a year, according to the World Bank.
Usually, hundreds of guests are invited to celebrate weddings, often in flashing neon halls where women and men are separated by high wooden walls. The groom and his family typically cover all the bills, including food, band, and several dresses for the bride and decorations for the couple's throne-like seats, Late night wedding functions, not to mention random requests from the bride's family.
The People hope the new law would help revive Afghan traditions, discourage prohibitively high dowry, prevent moral corruption and cement couple relationships.
In this regard, the new law might just help those who cannot pay this much or do not want to waste their hardly-earned money on lavish parties.
According to Islamic Shariah Law, dowry is an obligation upon the groom that he has to pay to the woman, and this dowry is a full right of the woman which totally belongs to her and not to anybody else..
Tags: #