A symbol of Syrian Conflict.
2016-08-19 15:33:35 | IRFAN ALI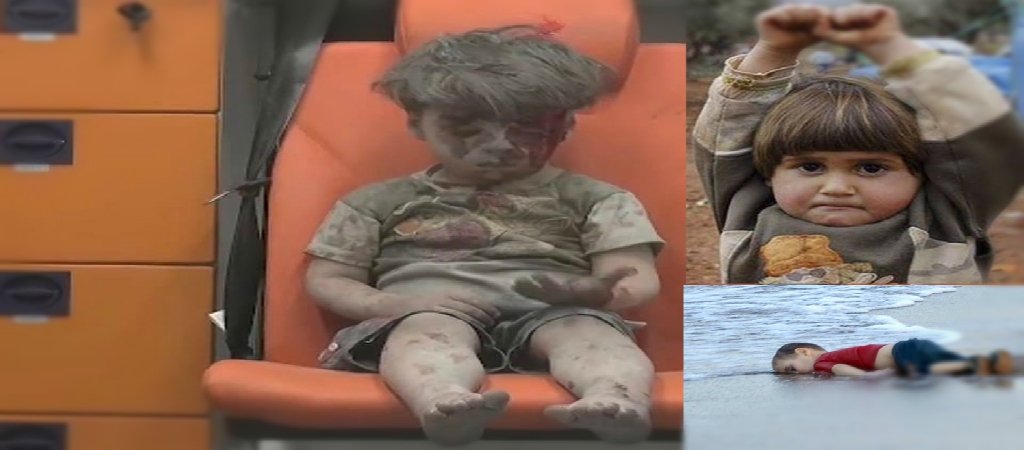 A resent air strike in Syria hunts and burned several civilians in Aleppo Rubble including innocent Childs. A photo of small kid is circulating several times in a day on social media and news channels in which the child in pictures, represented as symbol of war. The telegraph reported as the child is only 5 years old and his name is Omran Daqnessh, who was pulled from the rubble and brought to the ambulance by rescue squad. His face becoming a sign of the horrifying scenes could be seen in every day, struggles of innocent civilians in Aleppo. According to UK base war monitoring sources, war planes bombardment destroyed the several apartments and houses in the area and injured and killed many citizen. It is always the innocent children, women and the elderly who suffer the most in a hellish war. As haunting footage of a young boy's rescue from the aftershock of an airstrike shaken global media tremendously, the Russian army officials' step forward willing to back a UN cease fires call in Syria's contested city of Aleppo. The boy looking shocked in the image with dusty and bleeding face captured the scene like a horror movie but facts are as it could be seen every day. Sources said, the building in which boy was pulled out collapsed completely after an hour. The boy after medical treatment discharged from medical camp as Dr. Osama Abu al-Ezz. Said the boy was suffered head wounds but no brain injury, but image has frustrated the U.N.'s efforts to fulfill its humanitarian mandate and posturized the whole scene of destruction of civilization in Syria and a loss of a whole child generation since the conflict starts. The child in image looks it was as if he was asleep and not unconscious but shocked. Omran with his family members were also rescued from the building with light injuries. The strong imagery impact reverberated across social media, drawing to mind the distressed global reaction to the photos of Aylan Kurdi, the drowned Syrian boy whose body was found on a beach in Turkey and came to represent the horrific scenario of Syria's civil war. Scenes like the airstrike Wednesday night are very common in Aleppo. A foreign based Syrian Observatory for Human Rights monitoring pointed out that there were around 250 civilians killed while firing and mortar shelling between rebels and government forces in the first two weeks of August alone. It could be strange for someone that doctors used code names instead of their original names but in Syrian medical camps paramedical staff does because they argue that they have been systematically targeted by government forces and some militant groups.
. Tags: #