A hindu boy inspired by Prophet Mohammad (PBHU) and wrote a book on him
2017-06-20 07:53:05 | Al Muslim News | Indian Muslim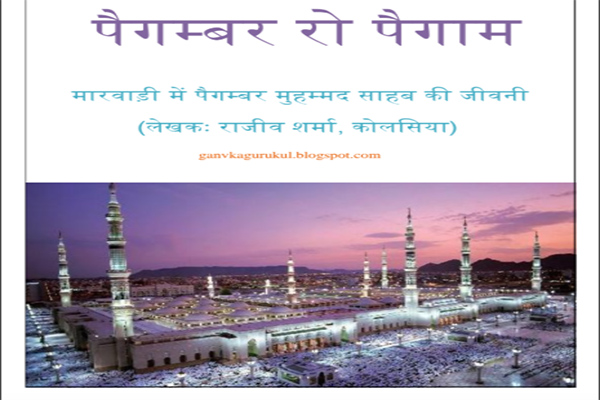 First time that someone has written a biography about the life of Prophet Muhammad (PBUH) in Marwari language
Prophet Muhammad (Peace Be Upon Him) has always been an inspiration for millions of people, Rajeev Sharma, a young Hindu is one of those inspired persons. Life of Prophet Muhammad (Peace Be Upon Him) had such a great influence on Rajeev that he made up his mind for writing a biography about the Prophet (Peace Be Upon Him) in "Marwari" language. The name of the book is "Paigamber Ro Paigam" in 112 pages.
Rajeev Sharma was born in 1987, in Kolasiya ,a village in Jhunjhunu of Rajasthan. He started his own library in his village when he was in 9th standard. Muslim Mirror reported.
He has a habit of reading new books and this is how he got a chance to read about Prophet Muhammad (Peace Be Upon Him). Although he had read numerous books but after reading about Muhammad (Peace Be Upon Him), he got so heavily influenced that he couldn't stop himself from writing a complete book on him. The language that he chose to write in was "Marwari ", a local language of Rajasthan. This is the first time that someone has written an original biography about the life of Prophet Muhammad (Peace Be Upon Him) in "Marwari" claims Rajeev Sharma.
He knew that writing a book about the life of Muhammad (Peace Be Upon Him) could create problems for him , but he went ahead fearlessly and completed the book.
The book says that there is only one God who has the supreme power. People call him Allah, ishwar and many other names. Irrespective of the names that are being taken by different people the God is one and only who holds the supreme power, that's is Allah.
The writer of this book is so greatly influenced by such a great personality Muhammad (Peace Be Upon Him) who was a messenger of Allah, that he decided to write this book on his life in one of the regional languages of Rajasthan region.
He mentions in the book that how much the "Prophet (Peace Be Upon Him) used to hate the practice of taking 'interest' (Byaj or Sood ) from people. It was very much disliked by Allah and so by him. The writer reminds of a incident in his own village where a priest who used to perform all the Hindu rituals that are supposed to occur at the time of marriages and other functions, the Hindu priest felt pride in lending the money to the poors on heavy 'interest' as because he knew that who took money from the him would never be able to re pay the amount even if they do so for next 20 years and would continue to pay the interest. The writer is greatly influenced by the unlawfulness of ' interest money' in Islam and in the teachings of the Prophet (Peace Be Upon Him).
Some of the teachings which moved the writer and made an impact on him are also mentioned in the book are given below precisely.
The Prophet Muhammad (Peace Be Upon Him) fought for women's empowerment. He also told people not to fight with each other and to keep calm and be happy with whatever Allah has provided us.
Prophet (Peace Be Upon Him) also told that "Allah wants to be gentle towards animals, they are the ones who cannot speak and neither express their pain. We should not exploit animals else Allah can punish us even more severely than what we could do with the animals".
Prophet Muhammad (Peace Be Upon Him) told "we should obey our parents and should never hurt them as Allah has created parents on earth who could take care of his children ".
It has also been narrated by the Prophet that heaven lies under the feet mother and so we should always give love, respect and obey her as the way to enter paradise is through her feet.
"Death is a reality and life is fake . Everybody who has taken birth on this earth has to go back again for the judgment day and has to face the death. We have been sent on earth for an examination for which we need to prepare ourselves well by doing the right deeds and following what has been instructed by Allah".
Paigambar Ro Paigam is already being appreciated by many. I have already received several thousand hits on my website for this. People across the globe have downloaded it," says Mr Sharma . The book is available for free download on his blog but if he finds a good publisher, he is ready to print the book too.
. Tags: #
Indian-Muslims
#
India
#