6 killed in mosque shooting in Canada
2017-01-30 04:47:01 | #nomi#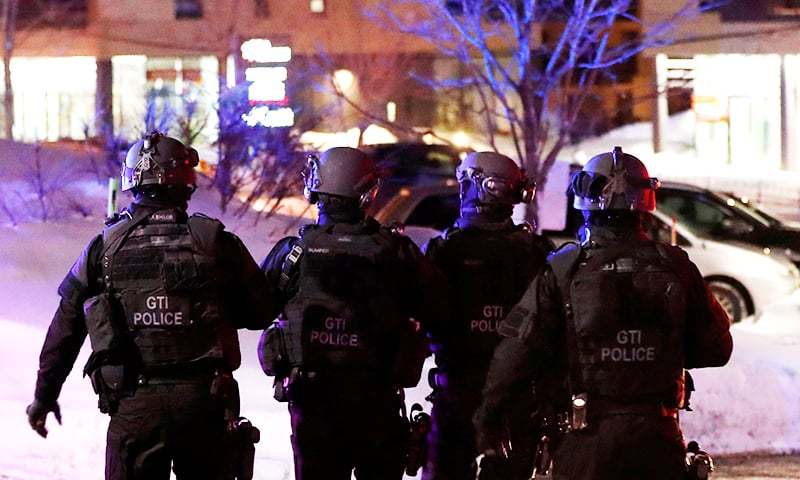 6 killed in mosque shooting in Canada
Six people were killed and eight wounded when gunmen opened fire at a Quebec mosque during Sunday night prayers, in what Canadian Prime Minister Justin Trudeau called a "terrorist attack on Muslims".
Police said two suspects had been arrested, but gave no more details into what prompted the "terrorist attack", saying the investigation had just begun.
Initially, the mosque president said five people were killed in the shooting, and a witness said up to three gunmen had fired on about 40 people inside the Quebec City Islamic Cultural Centre in Canada's Quebec province. Police said only two people were involved in the attack.
"Six people are confirmed dead - they range in age from 35 to about 70," Quebec provincial police spokeswoman Christine Coulombe told reporters, adding eight people were wounded and 39 were unharmed.
A Reuters eyewitness saw heavily armed tactical police entering the mosque. Police later tweeted: "The situation is under control."
"Why is this happening here? This is barbaric," said the mosque's president, Mohamed Yangui.
Yangui, who was not inside the mosque when the shooting occurred, said he got frantic calls from people at evening prayers. He did not know how many were injured, saying they had been taken to different hospitals across Quebec City.
Canadian Prime Minister Justin Trudeau said on Twitter: "Tonight, Canadians grieve for those killed in a cowardly attack on a mosque in Quebec City. My thoughts are with victims & their families."
Quebec's prime minister, Philippe Couillard, said in a series of Twitter posts that the government was "mobilized to ensure the security of the people of Quebec".
"Quebec categorically rejects this barbaric violence," he wrote. "Solidarity with Quebec people of Muslim faith."
. Tags: #
Anti-Islam
#
Islamophobia
#
Canada
#