3 Palestinian teens shot dead in Israeli-occupied W Bank
2016-02-18 04:37:30 | Muzamil A.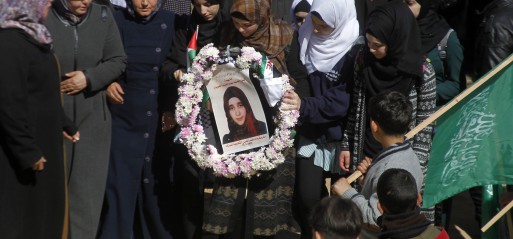 People carry a picture of 17-year-old Palestinian girl Kalzar El-Uveivi . Photographer: Wisam H.
JERUSALEM – Three Palestinians teenagers were killed by Israeli army in two separate incidents in the Israeli-occupied Palestine West Bank.
According to the Israeli military, troops shot two Palestinians dead near the northern West Bank city of Jenin after the former had come under fire after responding to reports of rock-throwing by Palestinian children.
The Palestinian Health Ministry confirmed the death of three Palestinian teens — Raed Mohamed Waked and Fuad Khaled Waked, both 15, and Naim Ahmad Safi, 17.
Israeli police claimed Safi had been shot at an army checkpoint near Bethlehem after he had attacked police with a knife.
Palestinian Ministry provided the figures that 174 Palestinians have been killed since Oct. 1 of last year, during the protests.
Israel's Foreign Ministry, for its part, says that, over the same period, 30 Israelis and foreigners have been killed in attacks carried out by Palestinians.
. Tags: #
Anti-Muslim
#
Terrorism
#
Jewish-settlers
#