11 killed, 36 wounded in central Istanbul explosion
2016-06-07 07:25:16 | AL-MUSLIM Middle East-Europe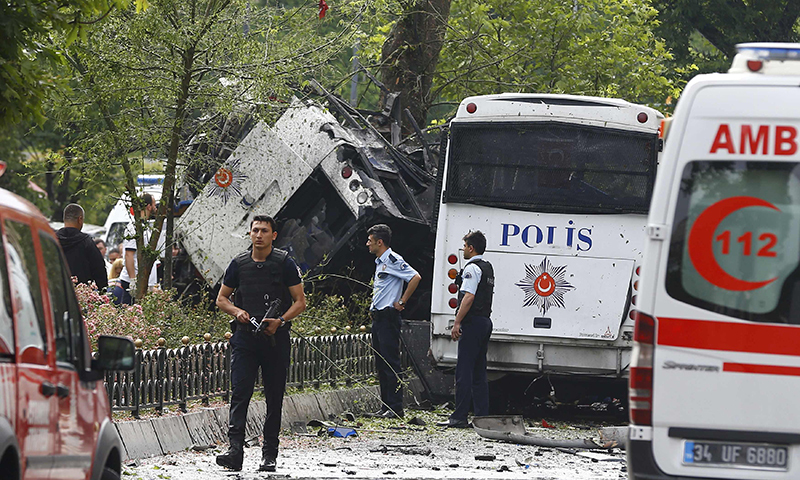 Police walk near a Turkish police bus which was targeted in a bomb attack in a central Istanbul district, Turkey, June 7, 2016.
ISTANBUL: Two people were killed and eight others wounded on Tuesday when a car bomb struck a police vehicle in central Istanbul, news channel Haberturk reported on its website.
A top official says a car bomb attack targeted a police vehicle in Istanbul has killed 11 people. Governor Vasip Sahin says at least 36 people were hurt in Tuesday's attack in Istanbul's Vezneciler district. The dead included seven police officers and four civilians, he said.
The blast, set off by remote control, occurred during the morning rush hour in the densely populated Vezneciler district, media reported.
The NTV broadcaster said the explosion occurred as a police vehicle was passing the area and that many ambulances rushed to the scene. The attack occurred during the morning rush hour near the city's historic quarter, a major tourism draw.
The area is a commercial hub as well as the location of Istanbul University and is close to key tourist sites like the Grand Bazaar. There were no immediate claims of responsibility.
. Tags: #
Terrorism
#
Turkey
#